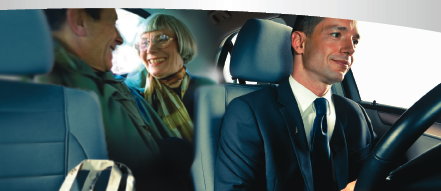 COSEPURI has considerable experience in providing transportation for senior citizens no longer able to drive or with reduced mobility, with particular attention to the special care these passengers may require, whether they reside in town or in outlying areas not served by public transportation.
COSEPURI's car rental service with driver it is also aimed at users equipped with a folding wheelchair in order to guarantee prompt, reliable assistance 24 hours a day, whether for everyday needs or in emergency situations. Our drivers are punctual and professional and are particularly attentive to the needs of people with reduced mobility when getting into or out of the vehicle.
The car with driver service we provide to senior citizens also includes accompanying them:
to and from hospitals, doctors' appointments, nursing homes
to and from shopping centers, post offices, banks, etc.
The service provided is limited to transport and to the ascent and descent phases from the vehicle and does not include accompaniment up to the inside of the home or health facility.
Furthermore, COSEPURI is currently running the school transport service for disabled students going to school in the municipality of Bologna. For students equipped with a folding wheelchair, this service is carried out by our cars. In case of non-collapsible wheelchairs, the school transport service is carried out by minibuses equipped with a hydraulic lift.
Info and quotes for specified routes:
No addition booking fees.