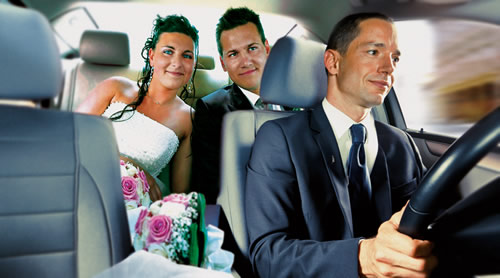 Choose COSEPURI chauffeured hire service for your wedding day in Milan!
You can choose among many prestigious late-models autos:
MERCEDES SERIE E o SERIE S, MASERATI GHIBLI, JAGUAR XF, BMW o AUDI A6.
Our chauffeured car rental service in Milan is marked by professionalism, quick answers and creative organization.
All it takes is a phone call – or a quick exchange of emails to set up a rental complete with our picture-perfect, elegant, competent driver at the wheel of a prestigious luxury car, shiny and comfortable, ready to make your perfect day even better.
Discover COSEPURI's package: Auto Blue in Milan for Weddings and ceremonies.
Our chauffeur will accompany the bride to city hall or church in a luxury vehicle that has been decorated by your florist and will wait for the bride and groom until the end of the ceremony and photo shoot, then accompany them to the reception venue.
We would love to take care of the transfer of your family and friends who arrive from out of town. They can be picked up with chauffeured minivans or minibuses in Milan.
Reserve your service with us – we can't wait to work out every detail with you!
Landline phone +39 02 839 68 637