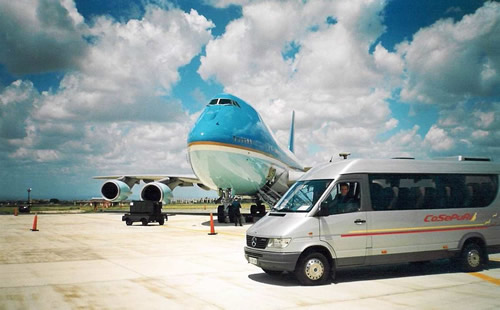 For your transport by minibus or chartered coach, you can rely on COSEPURI's Coach Division's professional bus hire with driver.
We specialize in providing passengers transportation:
to/from major airports, ports and train stations (Bologna, Milan, Venice, Turin, Florence, Rome, Naples, etc.)
to/from trade show locations, center cities and hotels in any city;
upon request, we can organize a regular bus or minibus shuttle service.
Our sales office also handles emergency requests for rental bus with driver service, using the latest communications and information technologies, assuring immediate drive availability and crisis management by means of cell phones. This means that a coach with a driver can be booked or called into service urgently at any hour of the day or night, even on Sundays and holidays.
Our drivers keep an eye on flight schedules to stay abreast in real time about any changes in the arrival or departure of scheduled flights.
In addition, any coach reserved for you will be easily identifiable by a personalized sign on the windshield bearing the name of your group or the logo you have provided.
Request a quote for our chartered coach service