For more information contact our individual divisions:
A high-quality, chauffeur service in luxury sedans or minivans with trusted drivers.
Division

Delivery Division
Urgent transport services with immediate pick-up and delivery by different sized vehicles up to 1600 kg of capacity.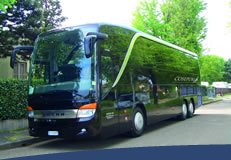 Totally dependable drivers at the wheel of coaches or minibuses holding anywhere from 16 to 62 passengers means a high-quality charter service.