For more information contact our individual divisions:
Car hire with chauffeur service to take you safely anywhere in Italy in style and comfort.
Immediate or scheduled transport by means of a full range of vehicles of various capacities towards all destinations.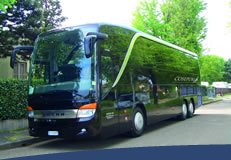 Chartered coaches or minibuses with expert drivers for any destination, in Italy or in Europe.
CENTERGROSS - Bologna
c/o Consorzio Futura Autonoleggio
Blocco 3B gall.a n. 48 Centergross
40050 Funo di Argelato
mail: prenota@futurautonoleggio.it
Telephone: +39 051 664 77 68
looks Google Map