For more information contact our individual divisions:
Hire a luxury car and expert driver for business trips, leisure time or tourism.
Division

Delivery Service
High quality, immediate transport 24/7 towards any destination, by means of a full range of vehicles of various capacities.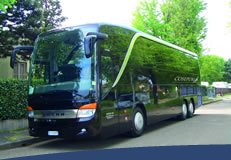 Chartered tour buses for business trips or sightseeing excursions to any destination in Italy or Europe.
COSEPURI FIRENZE
Via Vasco De Gama, 25
50127 Firenze - Italia
Telephone: +39 055 43 61 900
Fax: +39 055 43 79 165
Mail: info@capcosepuri.it
looks Google Map